RapidStrike CS-18
Talk

0
1,379pages on
this wiki
RapidStrike CS-18
Year Released:
Available?:

Yes

Stock Capacity:

18 Elite Darts

Average Retail Price(s):

$39.99

Family:
Additional Pages:
The RapidStrike CS-18 is a 2013 N-Strike Elite blaster that was released in the US in Target and Wal-Mart. It comes with a clear 18 round clip and requires 4 'C' size batteries to operate. This is the successor of the Stampede ECS. The Rapidstrike has some resemblance to SGNerf's modified Stampede, as he said it looks familiar. It is a flywheel-powered blaster, as hinted by the acceleration trigger. Like the Stampede, it is a fully automatic blaster. This makes the Rapidstrike the first full-auto flywheel blaster designed to fire darts. However, unlike the Stampede ECS, it has the option of adding a barrel extension, and has an unremovable stock that can be extended, similar to the Raider CS-35's stock, but is not removable. The battery tray is located beneath the barrel, a first for a Nerf blaster that runs on batteries put in a tray, as the battery tray is usually located behind the blaster. The RapidStrike is best used as an assault rifle, as it is lighter than the Stampede, Swarmfire and Vulcan, (which fill in the roles of light machine guns and/or machine turrets respectively), but has fully automatic capabilities, unlike blasters such as the Hail-Fire and Stockade, which can be potentially lighter, but are semi-automatic.
Commercials
Edit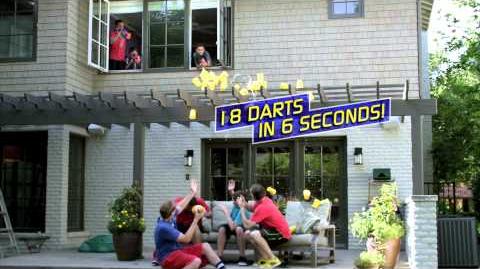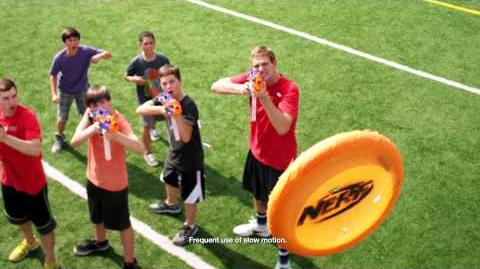 It was sighted in the US on August 10 in select Target and Walmart stores.