Home
Talk

18
1,064pages on
this wiki
Nerf Blaster Wiki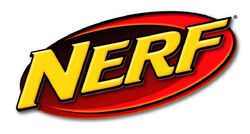 Welcome, <insert name here>, to the Nerf Blaster Wiki, the second largest Nerf Wiki and the 14th largest Toy Wiki on Wikia out of 49. We currently have 28,267 edits on 1,064 articles.
This wiki is a source of information for all of your Nerf, Super Soaker, Lazer Tag, Buzz Bee, Lanard, Air Zone, N-Force or Ammunition needs! Find more about what blaster you have, what theme it is from, and what to think about when choosing your next weapon!
You can help us by creating a page for us today!
1,064 articles since June 2009.
We have very high expectations of anonymous contributors. If anything that is either spam or vandalism is found, it will be reverted and we will deal the necessary consequences. Do note, that your edits will be shown up on the main page of this wiki, so admins can see what you are doing. So please, behave well on this wiki and have fun. If you need any help, please contact NStrikeAgent335, THE MAGSTRIKE GUY, REALNerfNinja6 or BSim. Before you begin, click here to make a profile before you edit and do reviews.
Recent Wiki Activity
Create an Article
Wiki News
Breaking News
Nerf News
Community News

January 28, 2014

Engadget reveals the new Nerf Cam ECS-12, the most expensive Nerf blaster yet.

January 17, 2014

October 16, 2013

July 16, 2013

July 11, 2013

June 27, 2013

June 22, 2013

May 28, 2013

May 25, 2013

Nerf announces "big news" for next week on Twitter and Facebook.

February 9, 2013

January 21, 2013

The London 2013 Toy Fair is held. MyLastDart was given an interview and was allowed to test new products. Dart Tag will now be exclusive to Toys "R" Us in the United States. N-Strike is being slowly discontinued.

Feburary 9, 2013

The annual New York Toy Fair is held.

January 22, 2013

The annual British Toy & Hobby Association Toy Fair in London is held.

December 10, 2012

December 3, 2012

November 27, 2012

November 25, 2012

Hasbro Australia announces the official Australian release dates for 2013 products:

September 9, 2012

The Hail-Fire is officially released into stores.




January 19, 2014

January 10, 2014

November 23, 2013

The Painsgiving War takes place.

July 25, 2013

January 19, 2013

Argos UK lists an N-Strike Elite Alpha Trooper in its catalog and on its website, as well as a new Dart Tag blaster.

December 11, 2012

November 24, 2012

November 15, 2012

A Nerf commercial actor posted (and later removed) images of the Strongarm (N-Strike Elite) and Rough Cut 2x4 blasters. He also mentioned something about a "Nerf Evolution" commercial. Leaked images can still be found on Urban Taggers.

October 23, 2012

October 17, 2012

A leaked image of the N-Strike Elite Firefly Tech clip surfaces on Urban Taggers.

October 16, 2012

October 11, 2012

A leaked image of a Super Soaker water-storing backpack on Urban Taggers shows off new Super Soaker blasters.

October 9, 2012

Leaked images of a glow-in-the-dark Elite Dart refill pack on Urban Taggers shows packaging art for the Stryfe, as well as a possible N-Strike Elite re-release of the Rayven CS-18.
Featured Article for the month
This Month's Featured Article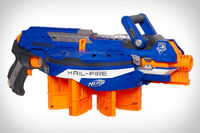 The Hail-Fire (formerly known as Hailfire) is a 2012 N-Strike Elite blaster that can hold up to eight clips in a circular rotating ammo rack. It was released by Nerf on 4th August 2012. An official demonstration video was released during the night of June 14 to 15, 2012, showing the operation of the blaster. The Hail-Fire has two handles: a rear pistol grip and an advance handle on the top front. There are two triggers on the rear grip. The top trigger is the firing trigger and the bottom trigger is the acceleration trigger. The blaster has a rotating ammo rack that can be rotated to the next clip by operating the advance handle on the top front of the blaster, as seen in the video. The video also shows that the Hail-Fire is powered by four AA alkaline batteries. It costs 40 USD, and when fully loaded with eight 18 dart extension clips, becomes very heavy. It has a blue paint job and is slim at the back, then morphs into a large circle, almost like a lazy susan of clips, which is very wide, then the advance handle near the front of the blaster and then the barrel.

(read more...)
(Archives)
Featured Articles are chosen monthly.
Featured Review for the month
This Month's Featured Review
Great range, great accuracy, cool design, what more could one want? ...Well, except for the bolt-action. But hey, it's good for aesthetics!

Ammo: Streamline Darts
Pros: Very long range, very accurate in general, only jams due to human error.
Cons: Later version only came with 1 clip, less range because of weaker spring, original cannot fire Elite Darts.


(see full review...)
Review by: Redwag123
(Archives)
Featured Reviews are chosen monthly.
Monthly Poll
Monthly Poll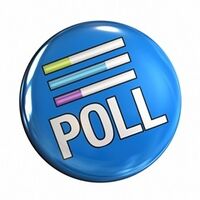 Which flywheel blaster do you want to get when it is released?
(Archives)
Monthly Polls are chosen based on what users say. Click here to suggest the next poll that you want to be featured.
Wiki Features
User Rights
Regular user: At least 0 edits
Rollback: 500 edits and no vandalism OR hard work and at least 200 edits with no records of spam or vandalism OR VERY HARD work with any number of edits with no records of spamming or vandalism
Chat Moderator/Chatmod: Refraining from poor language during chats
Administrator: 2000 Edits and no vandalism
Bureaucrat: N/A
SPECIAL CASES: Help a lot and do a lot of work to get promoted (any number of edits needed)
Privileges and user colour codes
Regular User: Nothing Special (Blue)
Chat Moderator: Can ban and kick users from chat (Red)
Rollback: Undoing Vandalism is easier (Cyan)
Administrator: Can block users and delete pages (Orange)
Bureaucrat: Can promote users (Gold)
This Month's Featured User
This Month's Featured User
(Archives)
Featured Users are chosen monthly by qualities.
Newest Users
Countdown to...

The Nerf Magnus releases in January 14, 2014 00:00:00 -0500 *undefined*
Users in Power
Wiki Admin News
Newest Nerf Blasters
Newest Buzz Bee Blasters
Newest Lanard Blasters
Newest Air Zone Blasters
Nerf Themes
Below you will find each Nerf theme with their respective blasters, by date.
N-Strike
Dart Tag
Vortex
N-Strike Elite
Zombie Strike
more...

Harpoon Crossbow (cancelled), Hydro Ball, Hydro Bazooka

Rip Rockets Hyper Rip Rockets

Larami SuperMaxx

Larami SuperMaxx Xtreme

Gatlin' Storm (cancelled), NitroQuad, Pulsator, RipChord, Triple Torch

Motorized

Ball Blasters

Note

Those in italics are still produced even though their lines have been discontinued.

Other Brands

Koosh

Buzz Bee
Lanard
Air Zone